About Professional Eyelash Extension Glue What You Should Know Before Application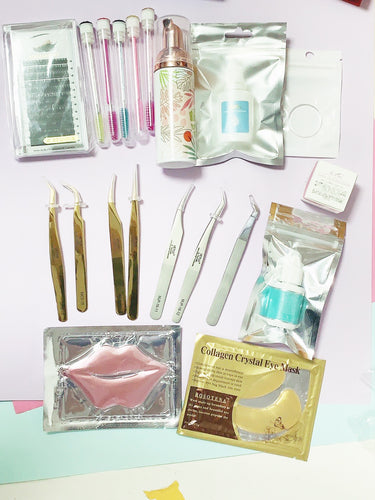 Caution
-The more you know about your client, the more you can reduce
possible risks. Ask questions about their past lash extension
experiences and her current health conditions.
-Always prevent contact of the adhesive with eyes or skin
-Making a patch test is always a good idea to see if the client
is allergic to the glue
-Adhesives may give off fumes, please apply lashes using this 
product in a well-ventilated room 
-The client's eyes must be kept closed throughout the lash
Application
-Use a mask and/or other protective gear to avoid exposure to
fumes
-Keep out of reach of children and pets
Before use
-Work in well-ventilated premises with optimum temperature
and humidity environment
-Best conditions: temperature 70-72℉ and RH 50-70%.
-Clean and prepare the lashes using the primers or cleansers
-Shake the bottle well for 30-60 seconds before use
-If stored in the refrigerator let the glue warm up to room 
temperature for about 1hour
Use
-Apply patches and / or tape the lower lid
-Make sure the client's eyes are tightly shut throughout the 
extension session 
-Adjust lashing speed to match the glue drying time
-For 1-2sec. glues separate first, then dip, approach, press, 
Hold and Release
-Apply extensions to natural lashes no closer than 0.5-1mm
from the lid, never allow any contact with skin
-Use adequate amount of glue, not letting it pool on the eyelid
-An even layer with a tiny blob at the extension tip after dipping
and pulling it out should be enough
-Make a new drop in 20-30 min as practicable 
-Shake the bottle a little between drops
-Don't leave the bottle with the tip open
-Use the pin as a stopper while lashing and to unclog the bottle
After use
-Blow lashes for 5-10min or use a mister as practicable
-When finished, wipe the tip with a lint-free cloth, screw it tightly,
put it in the pouch and seal the zip, put it in a cool place.
-Once opened, avoid storing bottles in the refrigerator 
Storage
-Store unused products in a cool dark place away from heat
and sunlight
-It is a good idea to keep unopened glues in a refrigerator(not
freezer)
-Sealed pouches can be stored for up to 6 months under normal 
conditions of storage
-Once opened, it's best to use the bottle within 1 month, but not later
than within 2 months under ideal storing conditions
Retention Killers Checklist
-Lashing speed not matching glue drying time
-Humidity and temperature out of the specified range
-Presence of chemicals/moisture in the air from other beauty
providers
-Other local humidity factors
-Not letting the glue stay to warm up to room temperature, if 
store in the fridge
-Not shaking the bottle before use and a little between drops
-Too little/too much adhesive used 
-Wiping excessive adhesive
-Adding applications of the same extension
-Several applications of the same extension
-Incorrect extension placement angle
-Incorrect lash-extension alignment
-Inadequate natural lash preparation(dirty/oily lashes)
-Clients with oily skin or super active oil glands
-Clients using oil/waterproof mascara or skincare products
-Clients subjecting extensions to moisture within 24hours
Professional glue is not for self-application, it will cause severe reactions, eye irritation or burning. Never use this adhesive for cluster or strip lash.